Castello San Salvatore tops the village of Susegana, overlooking the Borgoluce estate
SUSEGANA, Italy--Call it "Field-to-Plate" or "Farm-to-Fork," it's a literal KM-0 meal, kilometer zero.
You can only do this when you're actually having lunch and dinner on the farm, eating what comes out of the ground, off the fields, and from the livestock. You don't feel guilty wasting the planet's resources because these two related farms,
Collalto
and
Bertoluce
, here in the Veneto region of northeastern Italy, produce literally everything they serve: flour for bread and pasta, vegetables, meat, cheese, chestnuts, even the power needed to keep the lights on. (An
earlier post
describes the biomass co-generation process, which literally turns a daily ton of buffalo dung into a daily megawatt of power.) The properties have been in the Collalto family for literally a thousand years, part of a princely estate based at the Castello San Salvatore that dominates the adjacent village of Susanega.
The family's most recent leader, Prince Manfredo di Collalto, by all accounts a brilliant diplomat, instilled in his five daughters a spirit of humble yet forward-looking stewardship that has kept the 4,000-acre farm intact and prosperous. (All of
King County
has only 50,000 acres of farmland, spread between 1,800 properties, less than 30 acres apiece.) Where others might have sold off acreage to restore the family castle, say, Collalto has remained intact. In fact, it is a model of a vertically integrated farm, with wood chips from its forests used for fuel; grapes from its vineyards used for the region's prestigious Prosecco di Conegliano DOCG; herds of pigs and beef; butchering and cheese-making operations; mushrooms, chestnuts, walnuts, all from this Garden of Venice.
Prince Manfredo died prematureily in 2004, leaving the estate to his widow, Princess Maria de la Trinidad di Collalto, Castillo y Moreno and their five daughters. The Collalto estate is run by Maria's oldest daughter Isabella, who gave up a career in international relations with the European Union to assume hands-on management. The Bertoluce property is run by LOdovico Giustiniani, husband of the youngest daughter and an agronomist by training (and with a noble heritage of his own; one of his ancestors held the title of Doge of Venice). It's clearly an enterprise that occupies the entire family.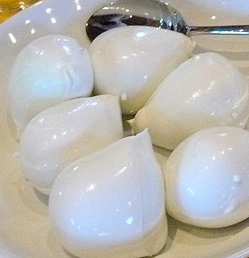 So what's for dinner? We start with a rich "cappuccino" of chestnuts, two swallows and it's gone. Then some mozzarella di bufala, stuffed with an anchovy, breaded with polenta and quickly fried. It has a superb delicacy and a chewy, elastic texture. Then a pumpkin soup enriched with a dollop of ricotta, followed by a pork tenderloin with chestnuts, and, finally, a typical local dessert, invented in Treviso in the 1960s, tiramisù.
"We did't want to bring the so-called industrial model to agriculture," Giustiniani tells me. "Instead, we intend to maintain the diversity of this property. With everything we do here, we communicate the landscape and respect the earth."
How exactly does one "communicate the landscape"? Well, with farmhouse dinners like this, for example. Within the next year, Bertoluce will open its own Locanda, or country restaurant, and will serve meals like this to the general public for an all-inclusive price (wine, taxes, service) for $40 to $50. It's not big-city haute cuisine, of course, but healthy and hearty, astonishingly fresh, and incredibly tasty.
The only holdup: running upgraded electric service into the ancient stone building which will house the Locanda. The public utility--the same outfit that buys a megawatt of power a day from Bertoluce's
biomass co-generation plant
--has given its approval. And because Bertoluce is reliable supplier and a solid citizen, the Italian bureaucracy promised to expedite the installation of the new power lines "within the next 12 months."
Can anything be done to nudge the bureaucracy and speed up the locanda's construction? Giustiniani is far too polished a diplomat to divulge his strategy. But it doesn't hurt that the farm is one of the most popular shopping destinations in the area, with a steady stream of cars pulling up in front of Borgoluce's farmhouse store to buy cryovac cuts of pork and beef (everything from traditional steaks and chops to organ meats), bottles of prosecco, flour, nuts, and the semingly endless styles of cheese from that dairy herd of buffalo.